Happy Memorial Day all!
I'm so thankful that we have a day we can enjoy to be with our family, and that we can feel safe and have freedom because of those that have been so selfless in serving and defending our country! But even more than that, as DH pointed out in church yesterday, I'm so thankful for the incredible sacrifice our Saviour made for us so that we can TRULY be set free from the bondage of sin AND death.
...We've been enjoying a pretty lazy day here at the Toller household--sleeping in, staying in jammies half the day, and lounging around watching food network. We finally decided to get somewhat productive tho--DH cleaned off the grill (we haven't had a propane tank since two summers ago) and I worked on a Memorial Day cake. For those that like to try new things, or are just looking for a healthy dessert alternative, I thought I'd share...
I saw a friend had recently made a rainbow layered cake and it looked SO cool, but since we're still trying to stick to a healthy eating plan, I didn't want to make a tempting cake...but then I happened across a website with a WW-friendly cake recipe and decided to give it my own twist for a Memorial Day flare:) It's not
exactly
SBD friendly since you use a cake mix, but it has a HEK of a lot less sugar, calories, and fat in it, so I thought it would be a nice alternative to a typical fatty dessert, yet it sounded super yummy, too!
Here's what you'll need:
2 boxes white cake mix with pudding
24 oz clear diet soda (we used diet 7up since that's one of our faves)
red and blue food coloring
16 oz. whipped topping
2 boxes fat free sugar free pudding
And here's how you do it...
1)Mix the 2 cake mixes with the soda (I wisked them together)
2)Divide batter into three seperate bowls, 1 with red food coloring, 1 with blue, and 1 as is.
3)Spray 3 round pans and bake according to cake mix directions (I baked 2 at a time because I have a small oven--I baked them at 350 for 25 minutes)
4)Let them cool before frosting (or icing, or whatever the proper term is! anyone know the diff?)
5)mix your cool whip with the pudding and frost away
voila! (sorry if my pics are huge--I've resized them, but they're still showing really large in my preview.)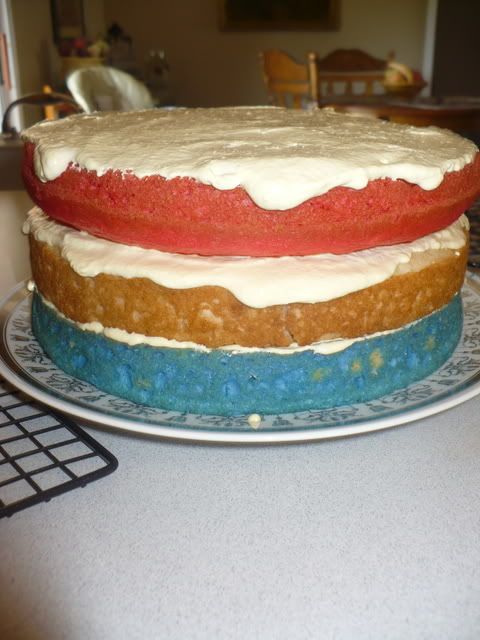 Of course, I'm sure what you REALLY want to see are pics of is LUCY, so here she is enjoying her turtle pool while Daddy grilled and Mama baked:)